Oklahoma State & Local Area Economic Outlook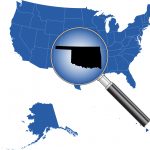 Comprehensive historical and forecast coverage of the state of Oklahoma, metropolitan areas, counties, and several specially defined regions within the state. Our online tables and graphs make it convenient to access the nearly 50,000 series in the database.
 Oklahoma Retail Outlook


(we continue to beta test the retail outlook)


The retail outlook will provide comprehensive access to historical sales and use tax data at the state, metropolitan area, county, and city levels with full industry detail. Tax revenue is converted to taxable sales, and historical tax rates are provided.