RegionTrack is an Oklahoma City-based economic research firm specializing in regional economic forecasting and analysis. Our mission is to assist public and private sector clients better understand current and expected future economic conditions and outcomes in their regional areas.
Our research approach is non-partisan and evidence-based and grounded on the careful application of modern quantitative modeling tools and techniques.
RegionTrack economists offer research backgrounds bridging the university, private, and Federal Reserve research sectors. We have extensive experience in modeling the economies of the energy-producing regions of the U.S. and considerable local knowledge of the economies of Oklahoma, Texas, New Mexico, Colorado, Wyoming, Kansas, Nebraska, and Arkansas. Our forecasting efforts extend across the state, metropolitan area, and city/county levels.
We also engage in a range of research efforts including custom economic modeling, industry studies, data collection and estimation, and economic impact assessments. We regularly collaborate with recognized economic researchers across the country to bring exceptional research expertise to RegionTrack clients.
You can examine our library of past research by RegionTrack economists and follow much of our economic commentary online.
Please contact us by email or by phone at (800) 762-0570 if we can assist in any way.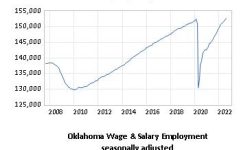 Oklahoma's post-pandemic recovery has been disappointingly slow relative to the nation. The state and both…