Some Good News in the Oklahoma Jobless Numbers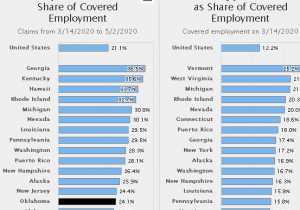 The Bad News
You may be wondering where the good news is hiding given the string of bad news on Oklahoma unemployment claims so far in the slowdown. In the most recent data released this morning, the state posted its highest weekly number of claims to date in the slowdown, almost 94,000 (not seasonally adjusted). IN. ONE. WEEK. 
Prior to this cycle, the worst single week since 1986 was in the latter stages of the 1990/91 recession with claims reaching almost 9,800. A nearly ten-fold difference.
OK Among States With Highest Share of Initial Claims (see graphic)
How bad have jobless claims been in Oklahoma? Across the first seven weeks of the slowdown (reporting weeks March 21 to May 2) the state reported almost 380,000 initial unemployment claims. This represents a staggering 24.1% share of total state jobs covered by unemployment insurance (UI). It is also 3 percentage points above the U.S. share and ranks as the 13th highest share among the states. No good news there.
But There is Some Very Good News
So where is the good news? It's in continuing jobless claims. Or the number of workers who remain on unemployment compensation. Continuing claims are a far better measure of the ongoing severity of the labor market downturn. They also provide a good approximate measure of the ongoing state unemployment rate.
On this measure, Oklahoma has only about 155,000 workers receiving continuing UI payments, or 8.6% of the covered state workforce. This is far below the 12.2% share nationally and is the 9th lowest among the states. Given a lag of one week in the data, this suggests that the state unemployment rate is probably already around 10%. However, this is well below the 14.7% jobless rate reported for the U.S. this week.
Tremendous Variation Across the States
Vermont has the highest share of continuing claims, with 25.2% of the workforce remaining on UI payments. Four additional states – West Virginia, Michigan, Rhode Island, and Nevada – have a share in excess of 20%. These states have remarkably weak labor markets relative to Oklahoma and will face challenging recoveries.
Eighteen additional states and the District of Columbia have shares below 10%. 
Energy States Among the Leaders
Surprisingly, along with Oklahoma, several of the states with the lowest share of continuing claims are major energy producers – North Dakota, Colorado, Kansas, Texas, and Wyoming. This may suggest that the contribution of hiring weakness from oil and gas to date has been far more modest than early estimates indicated.
Not All Bad News!
So while the headline jobless claims remain a bit unsettling, the underlying continuing claims numbers suggest that Oklahoma's labor market is managing pretty well relative to the nation and most other states.