Pic-of-the-Week: Oklahoma Oil and Gas Hiring (4/14/2014)
Clear Downshift in Oklahoma Oil and Gas Hiring, But Growth Continues at a Moderate Pace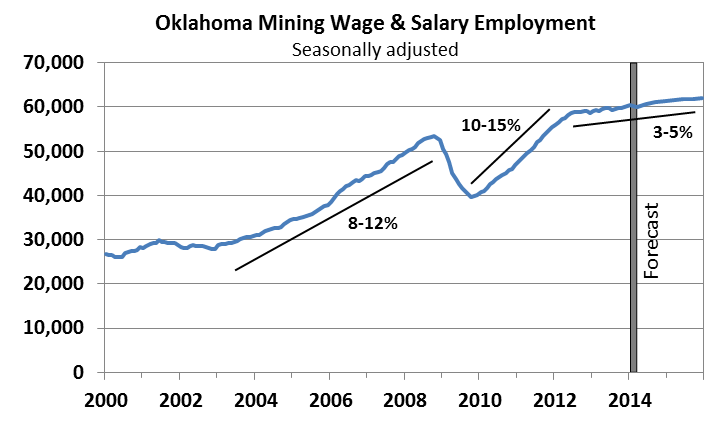 A clear downshift in hiring in the oil and gas sector since early 2012 is weighing on the state's core job growth rate.  Oil and gas hiring prior to the recession was extremely rapid at an 8-12% annual pace and was the key factor behind strong state job gains in the period. The recession then wiped out several years of gains, but growth quickly returned to a surprisingly robust 10-15% annual rate in 2010.

The downshift to a slower trend rate of hiring began abruptly in the first quarter of 2012 and coincided with several public layoff announcements. A number of state energy firms we track closely revealed significant layoffs as well. The slowing pace of oil and gas hiring is also reflected in overall state retail sales and tax revenue.

Currently, the core pace of job gains in the industry falls in the 3-5% range, well below growth rates posted in 2010 and 2011. This stills provides some boost to the overall state economy. The oil and gas hiring gain for 2013 is now 3.2% in the latest data, and our model-based forecast calls for a 3.4% gain in 2014. It is extremely unlikely that growth in the 8%+ range will return without significantly higher energy prices, particularly for natural gas. On the positive side, we suspect that any errors in our forecast are likely to be to the upside and that a core 5% growth rate is certainly possible longer-term if energy prices stay near current levels.
  [email_link]