The Energy States are Flying High – Almost Like 1982? The ongoing resurgence in the oil and gas industry is once again driving overall activity in the key energy-producing states. Our pic-of-the-week details the share of total state earnings derived from the oil and gas industry. Oklahoma currently leads the way with 12.7% of total state earnings derived from the sector. Remarkably, the massive state of Texas is second with 8.9% of state earnings from energy. To put this activity into perspective, the shares for Oklahoma and Texas in 1982 at the peak of the Oil Boom were 12.1% and 7.2%, respectively.
Wyoming's oil and gas share is third at 8.5%, but remains well below its 13.5% share from 1982. North Dakota is fourth at 6.8% – but maybe not as far above the 4.5% share it posted back in 1982 as you might have suspected.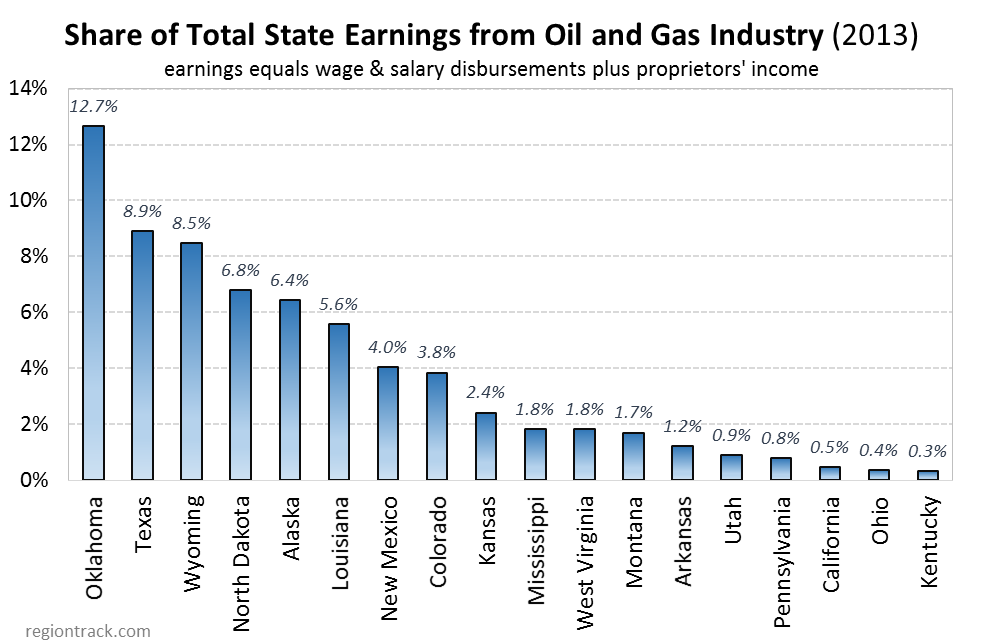 Alaska's 6.4% share is almost identical to its 1982 share of 6.5%. Similarly, Colorado's 3.8% share is only slightly below its 1982 share of 4.1%.
States with small shares but moving up the list include Arkansas and Pennsylvania, while California and Utah continue to move down the list.

Sign up to receive RegionTrack's PIC OF THE WEEK!
[email_link]