The Energy States – 1982 vs. 2013 (12/08/2014)
Just how big is the current oil boom relative to 1982? In short, not far behind for most of the energy states. Our last pic-of-the-week showed the share of total state earnings derived directly from the oil and gas sector. Requests quickly came in for a comparison of current conditions to those of 1982. This week's pic answers that question. For each of the energy states, you see the earnings share for oil and gas at the height of the prior oil boom in 1982, in 2001 at the trough of the long contraction that followed, and the current share for 2013.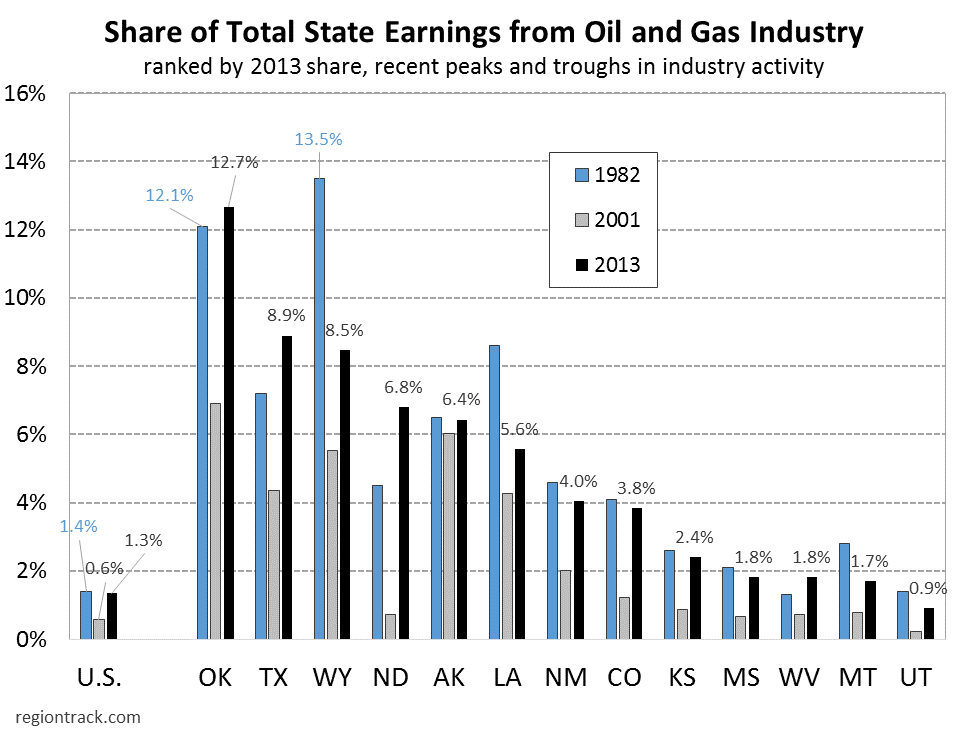 A few of the energy states are actually experiencing a higher share of earnings from oil and gas than in 1982. These include Oklahoma, Texas, and North Dakota – which the top three drilling states –  as well as West Virginia.
States that are approaching their 1982 high include Alaska, New Mexico, Colorado, Kansas, and Mississippi. The same is true for the U.S., with 1.3% of national earnings currently versus 1.4% at the peak in 1982.
Those states well behind their 1982 share include the oil patch state of Louisiana and the upper Mountain West states of Wyoming, Montana, and Utah.
If you want a bit more discussion of what defines an energy state, see Are The Energy States Still Energy States at the Federal Reserve Bank of Kansas City's website.