Which States are Most Dependent Upon Oil and Gas Activity?
Currently, Oklahoma has the distinction of having the largest share of total household earnings* coming directly from the oil and gas industry – an astounding 13.9% for all of 2014. In fact, Oklahoma now has the highest share ever posted by a state in the modern energy era, with Wyoming's 13.5% share in 1982 ranking a close second.
Texas (9.3%), Wyoming (8.9%), North Dakota (8.3%), Alaska (7.1%), and Louisiana (6.0%) all follow closely behind. Along with Oklahoma, these six states form the top tier of energy-producing states with the greatest dependence upon oil and gas activity. The economies of all six have either slowed sharply or are contracting so far through 2015 under pressure from the collapse in oil prices.
Second tier energy states including New Mexico (4.6%) and Colorado (4.5%) are next with 3-4 times the U.S. average share of earnings from oil and gas.
Other energy-producing states with roughly 2% or more of total household earnings derived from the oil and gas industry include Kansas (2.6%), West Virginia (2.1%), Mississippi (2.0%), and Montana (1.9%).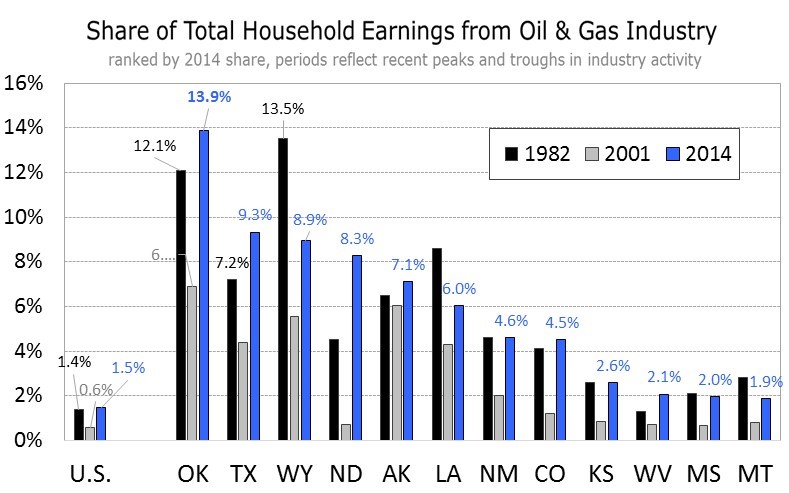 What may be even more surprising about the latest household earnings shares is that most of the top-tier energy-producing states have not diversified away from oil and gas the past few decades. Most currently have a more concentrated share of household earnings coming from the energy sector than at the height of the Oil Boom in 1982.
* Household earnings is defined by Bureau of Economic Analysis as employee compensation plus proprietor's income. Proprietor's income consists primarily of the income of sole proprietors and partnerships. The share of household earnings in each state derived from oil and gas activity is calculated as the sum of NAICS 201 (Oil and gas extraction) plus a share of NAICS 203 (Support activities for mining). The share of NAICS 203 included is determined by the ratio of  NAICS 201 /(NAICS 201 + NAICS 202 (Mining – except oil and gas) ).